WOODEN FURNITURE
Wooden Furniture provides a natural element to use in any outdoor environment- both as complete groupings or as complementary pieces. Wood is a material that will last with care and maintenance. Depending on your desired look and the level of care you wish to provide, we have several options for both covered and uncovered applications.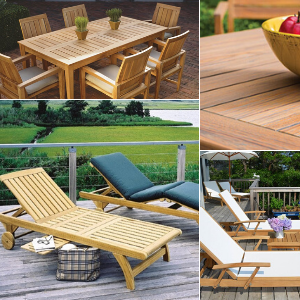 TEAK
Teak wood is easily one of the most popular and prized woods for outdoor furniture because of its elegant color and durability. Our manufacturers work with only the highest quality Grade A teak. The beautiful blonde finish of teak requires seasonal maintenance but will patina to a lovely coastal gray color without the seasonal care.
For Specific Product or Brand Information, Click the Links Below.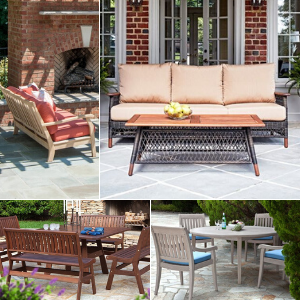 IPE AND ROBLE WOOD
Ipe wood is a very unique wood as it is extremely dense and heavy. Ipe's supreme durability makes it fantastic for outdoor furniture. Ipe wood has a dark red-brown color and contains natural oils which deter bugs, resist mildew, and withstand weather. With proper care, this dark finish can be maintained with seasonal care, otherwise it will patina to a beautiful weathered gray.
Roble wood is a perfect furniture wood because it is easy to work with, very durable, resistant to weather, and has a beautiful light color that is easy to stain and finish. Growing demand for this beautiful wood has caused it to become an affordable teak alternative.