METAL FURNITURE
A piece of patio furniture made from metal is versatile, low maintenance and sturdy. The material's weight also means that your patio furniture won't wear out over time or blow away in the wind. Plus, it's still light enough to move around and lift easily.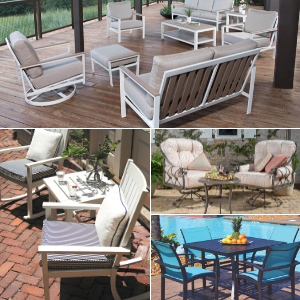 ALUMINUM
Aluminum is the perfect metal for outdoors, as it will not rust! Our aluminum products will bring a great new look to your outdoor space and will provide ample support. Cast aluminum is a great heayweight option and extruded aluminum is a lightweight option, both can be utilized as traditional, aluminum seating or accented with slings or cushions. Aluminum is also great for beach and pool applications.
For Specific Product or Brand Information, Click the Links below.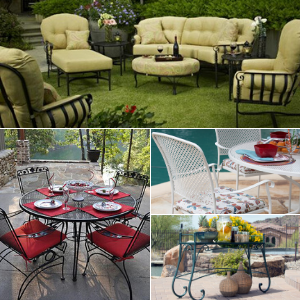 WROUGHT IRON
Wrought iron furniture has been a classic staple of garden furtniute since the early 19th-century. Wrought Iron is an affordable option with a classic look that is a great addition to any area and pairs well with other materials. Our wrought iron suppliers electrostatic powder coat their furniture, resulting in better quality and resististant to rusting for longer.