HAMMOCKS, SWINGS & ROCKERS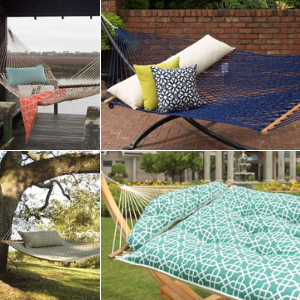 HAMMOCKS
PAWLEYS ISLAND
Pawleys Island has perfected the art of comfort and relaxation. To set a high quality standard, Pawleys Island uses only hand-woven rope and real wood in every rope hammock. In a world full of computers and machinery, Pawleys Island prides itself on these old-fashioned methods. Along with its famous rope hammocks, the company also offers quilted, soft-weave, and poolside hammocks in a wide variety of styles, fabrics, and colors.
For specific product or brand information, the logo will redirect your to Pawley's site.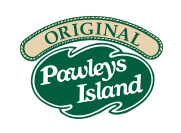 HATTERA'S HAMMOCKS
The expert craftsmen at Hatteras Hammocks hold the belief that "great hammocks don't just happen." Consistency makes a great hammock. Consistency in materials, consistency in effort, and consistency in finished products. For over 40 years, Hatteras Hammocks has dedicated itself to this belief.
For specific product or brand information, the logo below will redirect you to Hatteras; site.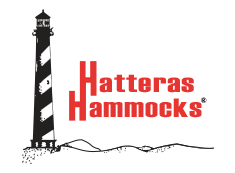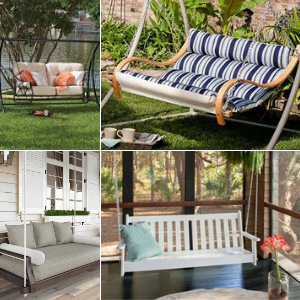 SWINGS
PORCH SWINGS
A Porch Swing is the perfect addition for any porch.
SWING BEDS
The twin mattress-sized seat cushion makes it possible to either stretch out or pile in with family and friends, while enjoying a sweet, summer afternoon
TUFTED SWINGS
A comfortable place to sit, the sun setting as you sip on a cold drink, rocking gently on the patio in your new favorite seat.
DEEP SEATING
Add a comfortable twist to the tradtional porch swing with this deep seating style, your porch swing will sit like a sofa!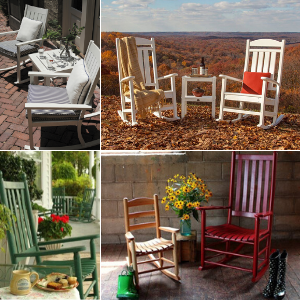 ROCKERS
TROUTMAN CHAIR CO.
Troutman Chair Company, established in 1924, has been family owned since its inception. The Brown family of Troutman, North Carolina is responsible for maintaining the quality manufacturing processes for almost three-quarters of a century. In 1999, Champ and Jean Land purchased Troutman Chair with the intent of continuing the tradition of handcrafting oak rockers, chairs, and stools in a manner established in back in 1924.
POLYWOOD
Create a quiet retreat on your porch or patio with the Vineyard Porch Rocking Chair. With a traditional look and comfortably curved seat, this all-weather rocking chair pairs well with a POLYWOOD® side table and is the perfect addition to any outdoor space.
For Specific Product or Brand Information, Click the Links Below.