SYNTHETIC WOOD
Synthetic Wood furniture is resistant to sun, rain, sleet, snow, wind, saltwater, chlorine and mildew. You can't say that about furniture made from wood. Poly furniture is low maintenance and easy to care for and requires no sanding or painting.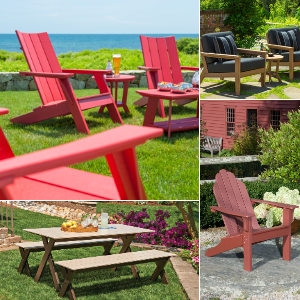 WHAT IS HDPE OR MGP?
HDPE or MGP is a high-density all weather marine grade polymer - the kind found in recycled milk
jugs. HDPE furniture is essentially a maintenance-free product. Our HDPE is non-porous and resistant to moisture, fading, insects, splinting, warping and other hazards of environmental exposure common to wood and wood fiber composite products.
We recommend this popular material for use on docks or near water for their comfortable, heavy weight and maintenance free durability. Like metal furniture, there are sling and cushioned options available but this material can also be utilized on it's own.
For Specific Product or Brand Information, Click the Links Below.